How to Combine PDF Files
There are plenty of PDF documents on the PC during the daily working time. But why you need to combine PDF files? Some PDF files are split to individual PDF pages, and you may need to combine the specific PDF pages to a new PDF document. Or, clients ask you to sign on the printed PDF contract then scan signed pages back and combine them to a complete PDF contract. This is the simple guide of how to use PDF Combine program to combine your PDF documents easily below.


1 Minute Video: How to Merge Multiple PDFs to One PDF by PDF Combine Software
1 - Add PDF Files
There are 3 ways to add your PDF files into the PDF Combine file list:
Add PDF files one by one:
Click on the "Add" button to choose a PDF file and add.
Drag & Drop multiple PDF files:
Drag your PDF files onto the File list blank field and drop them.
Add all PDF files from a folder:
click on the "Add Folder" button to select a folder and click on "OK" button. The program will add all PDF format files into the file list from the folder you select.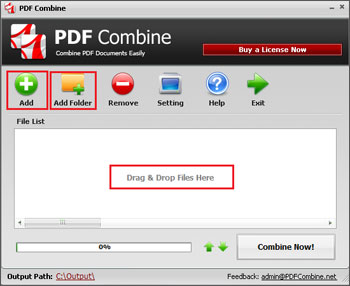 2 - Adjust the PDF Combining Order
Now you could see all PDF files are in the file list, but the order might not be correct. If you want to reorder PDF files in the list box, please click the
UP
and
DOWN
arrow on the right side of the progress bar. These two buttons allow you to move the selected PDF file up or down a row.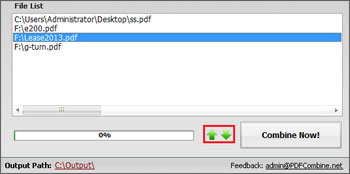 3 - Set the Output Path
You could find the "Output Path" on the lower left corner of the PDF Combine window. Click the path link to set the output folder which the program will save the combined PDF file into.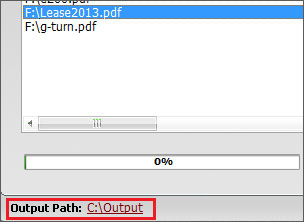 4 - Start Combing PDF
By clicking on the "Combine Now!" button, the task will get started immediately. Once the program finishes the combining, you will see the folder jumps out and the combined PDF file "combinedPDF.pdf" has been generated successfully.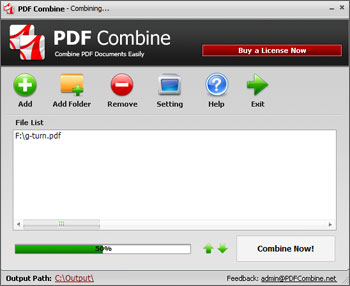 A Little Tip of PDF Combine: Duplicated Combine
PDF Combine
allows you to add duplicated PDF files. It means that all you need to do is just adding the file again before starting if you need to combine a PDF file twice into the final combined PDF document.