PDF Combine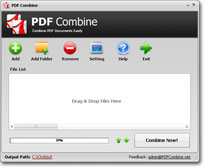 You may have a lot of PDF files while working on your computer and need a software program to combine PDF files into a single PDF document. PDF Combine is a windows PDF combiner program to combine your PDF files to a single one. You can download PDF Combine from this link.

PDF Combine also has a ZIP Portable Version, which you can share this app via email or flash disk much simply.



Looking for Mac OS Version? Click Here - PDF Merger Mac





Follow Us on Twitter
How To Merge PDF Files
We have updated PDF Combine lately and the new version added the "Sort the File List" button . With this new button, PDF Combine program enables you to sort the PDFs combining order by the filename ASC or DESC in the file list with one-click.