How to Put Multiple Documents into One PDF
PDF is a popular format for documents universally. It is easy to understand and use, and comes with a variety of functions that allow the document to be shared without a worry. They can be password protected, in case of sensitive information or copy-protected, if you have information or content you wish to protect against plagiarism.

Many of you may have multiple PDF documents that you need to put into one single coherent PDF file. However, most are clueless about how to proceed with this operation.

Use PDF Combine. This piece of software is absolutely flawless in ensuring your PDF files are combined in a perfect manner. Unlike most PDF concatenation software products, which make a mess of things, PDF Combine executes the operation without any errors.

Features of PDF Combine
The software product is loaded with tons of helpful features like:

* Fast concatenation of PDF files
* Original links present in the PDFs remain intact post-concatenation
* PDF files can be merged offline in a secure manner
* No requirement for the software to be installed
* PDFs can be combined in any desired order
* The software has a small size and is easy to work with
* Support available for all Windows OS and Mac OS
* Hundreds of PDF files may be combined in a matter of seconds
* Over 50 languages are supported
* Even Password Protected PDFs can be concatenated using this tool
* The original file's page size and content layout are retained for the new, combined PDF
* Adobe Acrobat is not required.


How to Put Multiple PDF Documents int One PDF by PDF Combine Effectively
Step 1: Add PDF Files
You may use 3 methods for this first step. It deals with loading the documents onto the software application before it can be processed.

The following methods can be used:

You may click on the 'Add' button present on the software application's interface. Proceed to select the PDF document you need to combine. Add it for further processing.

You may also choose to use the drag and paste feature for loading the documents. In this, simply select the PDF files, which you need to be merged. Drag them collectively and drop it on the application's interface. You may choose the 'Add Folder' option. Via this method, all you have to do is select the folder that contains requisite files. The application will automatically load all PDF files available in the folder for further processing.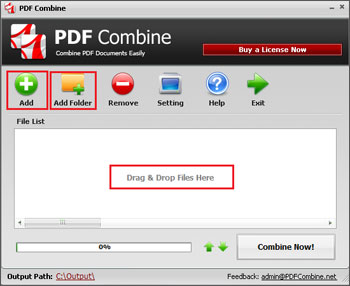 Step 2: Choose the Order in Which PDF Files Are To Be Merged
Right next to a progress bar, you should be able to see two arrows depicting the up and down directions. Click on the PDF file that you would like to move up or down and select the corresponding button.

Repeat this for all the loaded PDF documents until the required order has been achieved.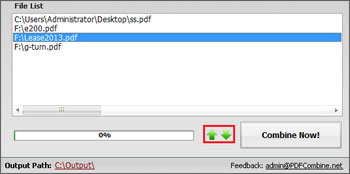 Step 3: Combine PDF Files
Once you are satisfied with the PDF order, simply click on the combine button. All PDF files should be combined and a new PDF file will be created in a matter of seconds.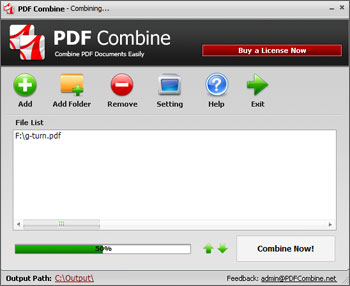 It's as easy as that.